Finding quality roofing contractors in your area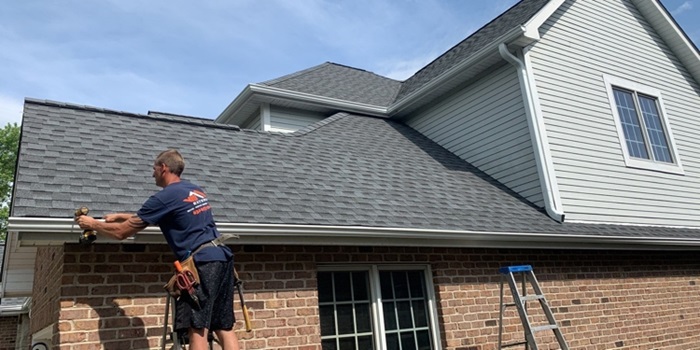 During home improvement projects, homeowners may need to repair or replace their roofs. Home protection is one of your most valuable assets. An experienced, reputable roofing contractor is required to install or repair your roof.
Do your research
Search online for roofing contractors in your city or county and make a list of a few potential companies for further inspection. Look for roofers that have been in business for several years and have solid online reviews. Stay away from brand-new companies or contractors with many negative reviews. Check with organizations like the Better Business Bureau for complaints.
Get referrals 
Recommendations from people you know and trust are helpful to find a reputable local roofing contractor in pickering. Find out who has recently had roof work done by friends, neighbors, or co-workers. Assess the contractor's professionalism, quality of work, timeliness, and customer service. A roofer's work will likely satisfy you if someone you know is happy with it.
Interview contractors
Take the time to interview each potential roofing contractor once you've identified a few. 
When did you start your business? At least five years in business is ideal.

Are you licensed and insured? Worker's compensation and general liability insurance are essential for contractors.

Do you have references from recent jobs? Reputable contractors should be able to provide multiple references. Follow up with the references and ask questions about their experience.

What manufacturers do you use? Quality materials will ensure a long-lasting roof.

Do you offer a workmanship warranty? Many roofers offer 1-2 year warranties on their work. 

Will you provide a detailed, written estimate? Get quotes from 3+ contractors and compare.
Evaluate credentials
In addition to interviews, check that contractors have up-to-date credentials:
Verify that they are licensed in your city or state.

Certifications from organizations like the Asphalt Roofing Manufacturers Association and the National Roofing Contractors Association are an excellent place to start.

Ask if they maintain insurance policies covering liability and workers' compensation claims. 

Find out if they will pull the necessary permits for the job. Reputable roofers will handle this.
Compare warranties 
The manufacturer's warranties on roofing materials are important, but you also want to evaluate the roofer's workmanship warranty. Many offer 1-2 year warranties on labor, but longer warranties of 5-10 years demonstrate greater confidence in their work. Review warranty terms closely and make sure you understand coverage.
Evaluate quotes 
Be wary of unusually low bids – an exceptionally cheap quote often indicates that materials or workmanship may be subpar. On the other hand, an extremely high bid doesn't necessarily mean better quality. When comparing quotes, take into consideration all factors – materials used, work performed, warranties, etc.